Michael Stevenson
Founder of Transform Destiny
"Coaching is a professional career that brings you fulfillment and freedom like never before. Now, you can become a coach in this live weekend training with a recognized expert."
"Become a Highly Skilled Certified Success Coach and Life Coach in this Live Certification Training Course with Transform Destiny"
Discover how to create success for yourself and others in any area of life and even make a living as a professional Success Coach and/or Life Coach!

Coaching is one of the few careers you can do from anywhere in the world and you will become an amazing coach using tools from NLP (Neuro-Linguistic Programming) that you'll actually learn in this live, hands-on training!

How would you like to set your own hours, determine your own worth, and do something really meaningful, all while working from anywhere in the world?

Contrary to popular belief, being a coaching requires no degree, no experience, and no prior "success."
Do People Really Pay for Coaching?
Yes! There is a growing demand for success coaches and life coaches in today's challenging world.

By the thousands, people are quitting their day jobs and starting up their own businesses, dealing with challenges in their life and relationships, and searching for meaning and purpose in life...

Coaching is a $2.4 billion per year industry according to PricewaterhouseCoopers, one of the world's most respected analysis companies. It has had an annual growth rate at over 5% per year. According to IBISWorld, 75% of practicing coaches are expecting their income to increase over the next year. So if you're looking to become a professional coach, now is the best time to get your start.

Most people lack discipline, drive, and a real plan that it takes to create real success and fulfillment in their life. It's during these critical times that those people need a coach.

Coaching is all about using simple, specific tools to help people achieve their wildest dreams.

And the good news is, coaching doesn't require years of schooling, and you don't need specific knowledge about any particular industry or business to coach people in those fields. Coaching uses a step-by-step process which you can learn regardless of your own personal or professional backgrounds. Because of this, it's possible for you to start a new career as a coach.

Learn to coach yourself and others to success in this live weekend training taught by a recognized expert and Certified Trainer of Success and Life Coaching.

In this hands-on workshop, you'll learn an incredible, foolproof, seven-step method for success coaching that will have everyone you know asking for and paying for your help.

You can even make an impressive income working from anywhere with the fully-qualified graduation certificate in Success and Life Coaching you'll earn in this course. No prior experience is necessary, and no degrees are required.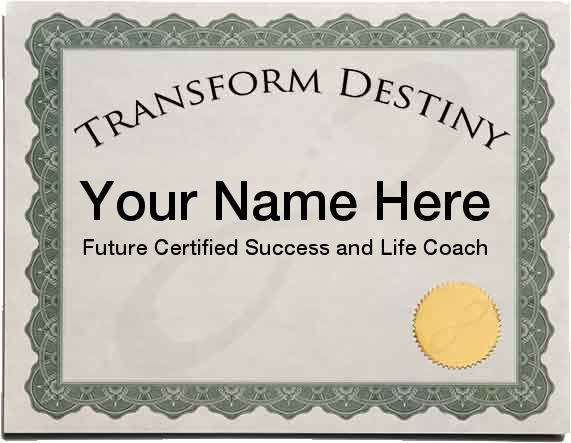 The Benefits of Becoming a Coach
Becoming a Success and Life Coach comes with a host of benefits, including:
Set Your Own Hours and Create REAL Freedom of Time
Work From Anywhere

— Most Coaching is Done Over the Phone, Skype, or Zoom

Get Paid What You're Worth

and Set Your Own Rate

Really Make a Difference

Helping People and Changing Lives

Coaches are In High Demand Right Now and the Demand is Growing
Coaching Can Be Very Lucrative and Fun!
With all these wonderful benefits, most people think that becoming a coach requires a lot of money or a lot of time, but the truth is that you can become a certified coach in just a few days in this live certification course with a Master Trainer of Coaching and NLP.


Twenty two years ago, Transform Destiny founder Michael Stevenson created this seven-step coaching system that's easy to learn, easy to remember, and easy to use, called The CORE Method of Coaching.
In just three days, you'll learn this powerful seven-step method which he has taught to thousands of coaches in certification trainings since 2006.

Upon graduation, you'll be qualified to make an impressive income working from anywhere with your certificate in Success and Life Coaching you'll earn in this live course.

No prior experience is necessary, and no degrees are required.
"This is the best training I've ever had! The instructor provided an abundance of information and guidance. I felt more confident attempting my final exam and coaching session because of the thoroughness of the program."
"The handbook is also very helpful and something I will continuously refer to for years to come."
"I'm glad I decided to take the CORE program!"
Jennifer Wilkes, Lithia Springs, GA
"This was THE best coaching course I've ever taken.

Jump in on this NOW! You'll be glad you did! "
Stacey Martin, Austin TX
"I'm a Success Coach now! I have had this dream ever since the first time I saw Tony Robbins speak and now it has come true.

I am excited to go out and Transform the World with this new skill.

Transform Destiny trainings are definitely the best out there. What makes them really different is how much they care about us, their students and graduates. Highly recommended."
Eugene Hoang, Garden Grove CA
What You Will Learn at the Live Training...
The Seven-Step C.O.R.E. Method: Just follow these steps, one by one in each session, and you'll get phenomenal results as a coach . It's like "paint by the numbers" for coaching and so simple, anyone can do it — regardless of your background or education

Real NLP tools that coaches can use to create motivation and success in their clients

Powerful word-for-word language patterns that help people overcome challenges and blast through obstacles

How to set achievable goals for yourself and for your clients

Powerful ways to motivate yourself and your clients

How to get strong commitments and accountability from yourself or your clients

How create "action plans" to detail the steps to success necessary to create success

PLUS , learn five proven ways for how to market yourself as a coach

Complete Qualification: After successfully completing the weekend you will earn your completion certificate in training as a Success and Life Coach you'll be will be qualified to run your own practice, full-time or part-time. This training meets the standards of the International Board of Coaches and Practitioners and other boards, so your certification will have world-wide recognition
You will also receive over $500 in bonuses, including marketing video training, forms, documents, books, and more when you enroll now.

Enroll now. Seating is limited and this event will sell out.
Our Iron Clad 100% Satisfaction Guarantee
We stand behind the highest quality our trainings offer and that's why we can make this promise.

Our trainings and seminars are 100% satisfaction guaranteed.

If you find you are not completely happy with the content or the quality of the training, or feel that you are not learning Success and Life Coaching easily and effortlessly, simply turn in your materials by lunch on the second day for a full, complete and friendly refund.
Enroll in The CORE Success Coach Training
Click a Button To See the Dates and Prices For the Following Cities
New Dates Coming Soon!
Not Sure Where or When You Want to Attend?